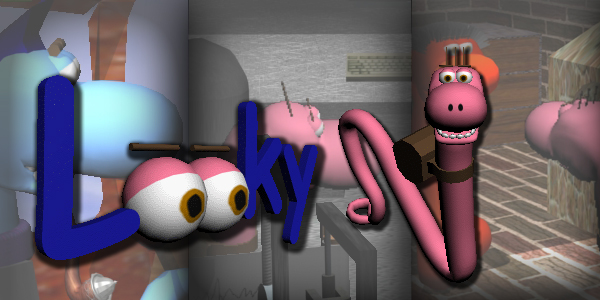 Looky - The Adventure
A downloadable game for Windows
English Version (scroll down for a german description)
Looky - The Adventure
Story
In a galaxy at the other end of the universe, on a planet called VERMIS, there are creatures so fearsome that it overwhelms all human imagination. Beings so decidedly and highly technologized that the very brightness of their aura would instantly shred our human eyes ... no, not really;)
The inhabitants of this planet are worms! And pretty clever ones. Among others, one of them is called 'Technologician'. And he discovered by means of a self-invented and self-built seismograph that the volcano 'Mount Spit' on the central island 'Residenco Volcano', that was believed to be dead for eons may not be quite as dead as assumed. So the elders of the small island kingdom around Residenco Volcano decide to send out a brave hero to get an overview of the situation. As luck would have it (he, he) Looky gets the dangerous job. Why dangerous? Residenco Volcano is said to be inhabited by a folk of cannibals that is reason enough for all worms to not set a foot on this island (or more accurately: a tail, or tailtip, or … you know what I mean…).
You accompany Looky on his way through dangers, screaming comedy and exquisite puzzles. Unravel the secrets of a volcano that isn't one, a gone-nuts public enemy and the 'Barrier 51'!

Features
High-resolution graphics in 1024 x 768 pixels in 32-bit colors. (yes, 2007 this was high-resolution, kids!)
Parallax scrolling (Scrolling in several layers to add depth to the scenes)
Three more or less long chapters
Exciting story with many surprises
A lot of different locations to visit spread over 70 scenes
Pre-rendered cutscenes
Note: This is the first half of the game originally released in 2007. This 2019 release contains some video enhancements (no external codecs needed anymore). It offers 5 to 7 hours of classic 2D point and click adventure fun.
The complete game including this first half is currently in re-development in full 3D, but classic controls and will be released later. Follow the development here!

Deutsche Version
Looky - Das Adventure
Story
In einer Galaxie am anderen Ende des Universums, auf einem Planeten namens VERMIS, leben Kreaturen, die so furchteregend sind, daß es jegliches menschliches Vorstellungsvermögen weit überfordert. Wesen die so ausgesprochen Weise und hoch technologisiert sind, daß allein die Helligkeit ihrer Aura unsere menschlichen Augen sofort zerfetzen würde ... nee, nicht wirklich ;)
Die Bewohner dieses Planeten sind Würmer! Und zwar ziemlich gewitzte. Unter anderem ist einer unter ihnen, der 'Technologiker' genannt wird. Und eben dieser entdeckt mittels eines selbsterfundenen und selbst gebauten Seismographen, daß der seit Äonen tot geglaubte Vulkan 'Mount Spuck' auf der Zentralinsel 'Residenco Volcano' vielleicht doch nicht ganz so tot ist, wie angenommen. Also beschließen die Weisen des kleinen Inselreiches um Residenco Volcano einen mutigen Helden auszusenden um sich einen Überblick über die Lage vor Ort zu machen. Wie der Zufall es will (hi, hi) bekommt ausgerechnet Looky den gefährlichen Auftrag. Warum Gefährlich? Auf Residenco Volcano soll ein verborgener Kannibalenstamm existieren, der allen Würmern die vernünftig genug sind Grund genug ist, dieses Eiland nicht zu betreten (oder treffender: zu bekriechen)...
Sie begleiten Looky auf seinem Weg durch Gefahren, schreiender Komik und exquisiten Rätseln. Lüften sie die Geheimnisse um einen Vulkan der keiner ist, einem Banane-gewordenen Staatsfeind und die 'Barrier 51' !
Features
Hochauflösende Grafiken in 1024 x 768 Pixeln in 32-Bit Farben. (Ja, 2007 war das hochauflösend, Kinder!)
Komplette deutsche Sprachausgabe (2.700 Zeilen)
Parallax-Scrolling (Scrolling in mehreren Ebenen um der Szene Tiefe zu verleihen)
Drei mehr oder weniger lange Kapitel
Spannende Geschichte mit vielen Überraschungen
Eine Menge unterschiedlicher Orte verteilt auf 70 Szenen
Vorgerenderte Zwischensequenzen
Hinweis: Dies ist die ursprünglich 2007 veröffentlichte erste Hälfte des Spiels. Diese 2019 veröffentlichte Version beinhaltet einige Verbesserungen im Videobereich (keine externen Codecs mehr nötig). Sie bietet 5 bis 7 Stunden klassischen 2D Point&Click Adventure Spielspaß.
Das komplette Spiel inklusive dieser ersten Hälfte befindet sich zur Zeit in der Neuentwicklung in komplettem 3D, aber altbewährter Steuerung und wird zu einem späteren Zeitpunkt veröffentlicht. Die Entwicklung hier verfolgen!
| | |
| --- | --- |
| Status | Released |
| Platforms | Windows |
| Author | Bullshit Softworx |
| Genre | Adventure, Puzzle |
| Tags | 2D, Cartoon, classic, cutscenes, Narrative, Point & Click, Singleplayer, Third Person, worms |
| Average session | About an hour |
| Languages | German, English |
| Inputs | Mouse |
| Accessibility | Subtitles |
Download
Click download now to get access to the following files: